I saw this great sign today on my walk to work.  Such a metaphor!
First rule of customer service is to not be grumpy. If you've got that, you're half way to a gold star.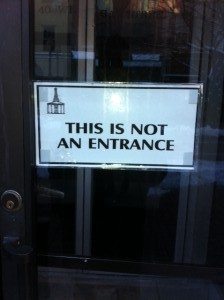 I think a little extra sleep on the part of this sign maker might have yielded something 'nicer' like:
Sorry, you gotta go that-a-way >
Looks like a door–but not really a door. Try around the corner.
Sorry! Entrance is actually over there >
I went the extra mile and added a bit of play–always a good idea to try to make someone smile a bit right before you start dealing with a customer service issue, no?
Customer service is about empathy–just inhabit your customer's mental state and you'll make friends and provide exceptional experiences.