Believe it or not, this makes sense: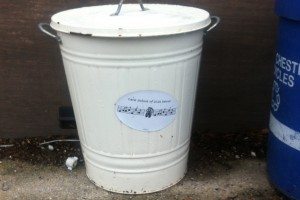 It's a little hard to see, but the little sign is for "Cara's School of Irish Dance".  At first glance I thought, "Why would anyone advertise on their own trash can!"
Then I realized where I was and what I was doing: I was pulling two little girls in a red wagon down an alley in my town. Where I come from alleys are a great place to walk–our brick side walks are very bumpy! So, in fact, Cara is pretty smart: she knows how to get in front of the folks she's targeting (parents from town)–even if that means advertising on a garbage can.
That's local marketing innovation!