Just took the girls out to breakfast at the Classic Diner in Malvern, PA and besides having great food and a zany time, I had a social media epiphany after seeing this: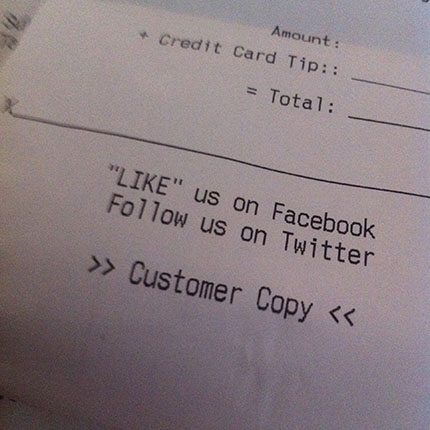 Kudos for the Classic Diner for getting their social media Calls-to-Action (CTA) on their receipts–a great engagement point–but they should have gone a step further. But, really, it's not all their fault–the industry has to step up a bit too. Let me explain:
The restaurant could have added short URLs–or better yet a QR code (although this would have precluded perhaps having two CTAs). But what would really create a tipping point is a one-step action that creates a better connection to the consumer. I think two things have to happen:
1. Mobile phones have to build QR tech right into the camera.
2. Businesses have to focus and decide what their engagement goal is.
If I had my way, Classic Diner clients would see a QR code on this receipt and by snapping a photo of it they would automatically 'like' the restaurant on Facebook. Or, better than that, they would sign up to receive direct–perhaps even custom–offers right from the restaurant.
Bottom line: businesses should make the connection experience radically simple and super meaningful.